88 Frenzy Fortune is a Betsoft online slot with 3 reels and 1 payline. Yeap, just one! Insane we know, no need to judge the slot by its cover, yet. As we strip away the layers of 88 Frenzy Fortune, it has an Asian space theme. Needless to say, it boasts a few interesting scenes.
Betsoft's 88 Frenzy only has one bonus round, the Bonus Frenzy with multipliers. It's unique so bear with us as we further explore 88 Frenzy Fortune in this slot review.
Furthermore, the volatility is medium, and the jackpot of 2,368x is ideal for casual players. We tested the mobile version of the slot on our Android device; it loads fast and looks great. If you decide to play the slots for real money, visit our greatest legal online USA casinos for players from the States.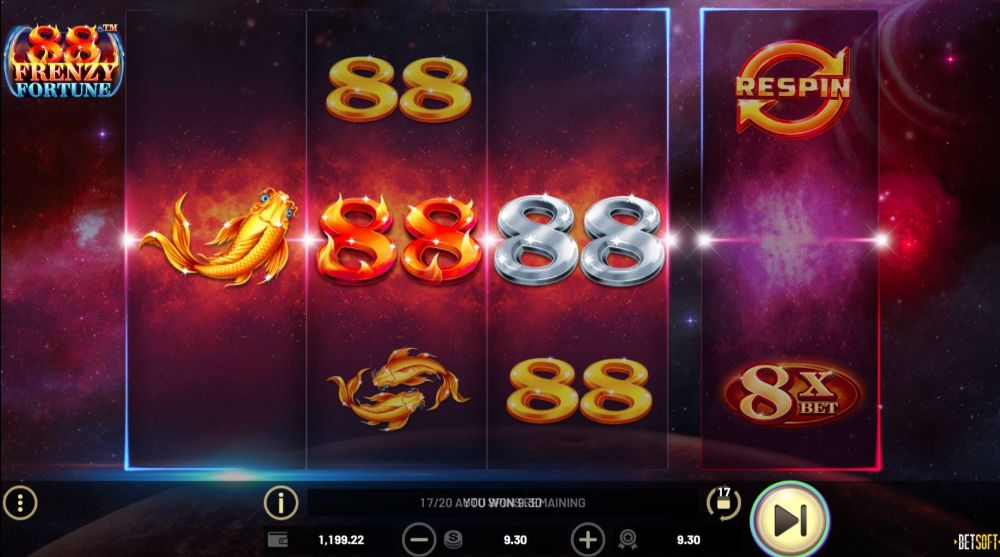 Betting Range, RTP & Symbols
The game's betting range goes from $0.06 to a max bet of $30. A simple calculation shows that you can win up to $71,040. The good news is that real money US casino slot players can win it on any random spin!
The average return or RTP of 88 Frenzy Fortune is 96%. Therefore, a mere 4% goes to the house on this slot. That's the industry's standard right there and the winning potential is okay too.
Visually, the background shows space in all its beauty. The red and purple colors add a nice touch to it. The backdrop of the reels animates as you spin the reels. It makes the slot pop and the audio track is upbeat.
Those can't contribute to a win, but they will reveal the beauty of the graphics. The symbols come in just two categories, koi fish and eights. There are different variants for both these options. You can even use them together for a small payout. You just need to get 3 symbols for a payout. Sounds simple? It is, but the blanks complicate matters a lot.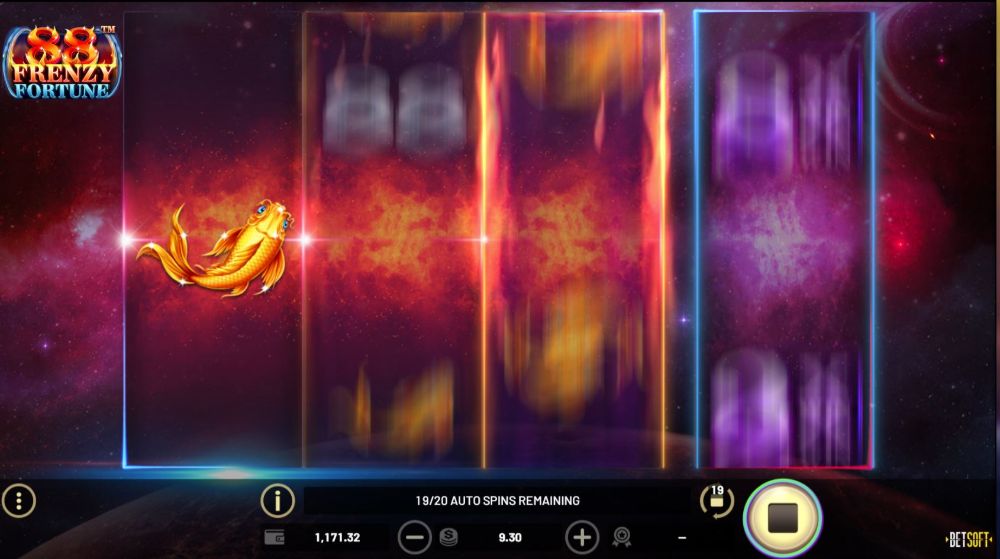 Bonus Rounds
Bonus Frenzy
The bonus round of 88 Frenzy Fortune is Bonus Frenzy. Each spin you pay for spins all 4 reels. The three first can have pay symbols, while the last one has 3 different modifiers. You can trigger them only if you get a win. Suffice to say that they can sweeten the deal by a serious amount!
The first modifier is a bet multiplier that will net you 8x or 18x your bet. A good coin win, but the second modifier is way better. It's just 2x, 5x, or 8x and applies to all wins instead of your bet!
The final modifier is the Respin and it will respin all 4 reels once you trigger it. This will net you the same win, though it will be with a random multiplier as well. The possibilities are 1x, 2x, 3x, and 4x. You'll receive a Respin symbol for up to 5 respins. This can lead to serious wins, even the slot's jackpot!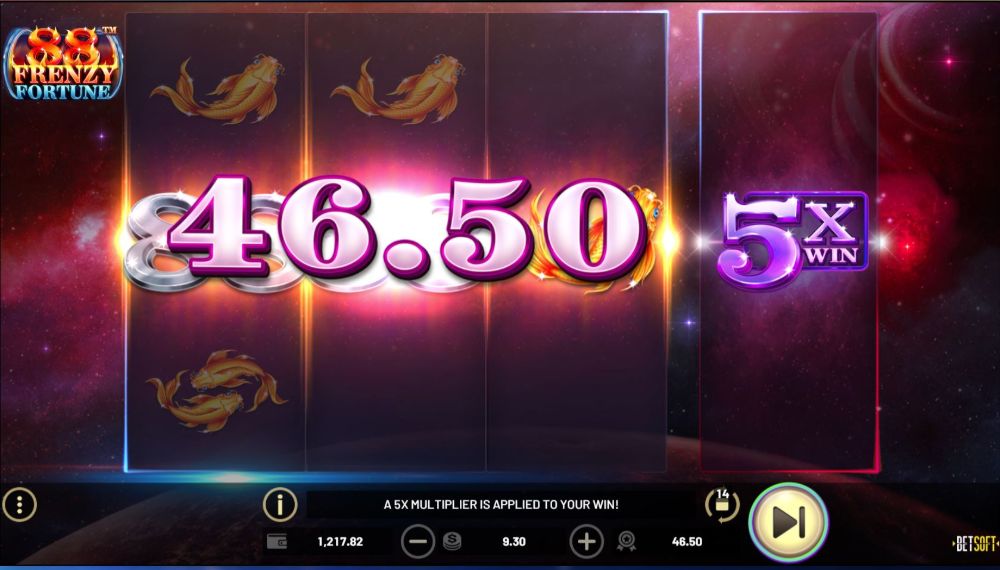 Verdict
Betsoft wanted to create a space treat with 88 Frenzy Fortune and it delivered on that end. The final result is a simple slot with some serious eye candy. It doesn't have much depth which makes it a bit of an enigma.
The modifiers land making it worthwhile to play but winning spins are far and few. It seems easy on the face of it, just land 3 symbols on the payline. The number of blanks can be astonishing, though. That might put you off, but the zen-like atmosphere compensates for it. 88 Frenzy Fortune slot suits the pocket of causal players.
For a more complex alternative, try Betsoft's previous release called Wild Drops. It plays a bit like Tetris in that you have to remove lines of symbols. There's a line for each row, paying from both sides as well. Remove all the symbols and you'll get a win multiplier – 5x in the base game and 10x in free spins.
Free spins can be hard to come by, as you'll need to uncover Bonus symbols hidden behind regular ones. They come with one big boost, though. Each free spin has a full Wild Reel in the middle, so wins come easy. It's all about gems though a bit more volatile than 88 Frenzy Fortune.