HarleCoin is a Red Tiger Gaming video slot. A classic one with 3 reels and only a single payline. You've read that right, there's only one line that's active at all times. That's almost unheard of in this day and age. The studio is so active that it can afford to drop a slot like this. Maybe there might be a few players that enjoy this sort of slot.
The math model combines medium-high volatility with a low hit rate. It clocks in at a winner on every 5th spin. Note, the jackpot of 1,076x is at the lower end of the spectrum. In any case, you can play HarleCoin slots for real money at our instant payout EU casinos online.
On a slightly different note. HarleCoin slots online is now available at our greatest casinos US online. If you're a US player we heartily recommend Betsoft's excellent Mr. Macau. It's a casino-themed slot in which Mr. Macau will welcome you and lead you through many exciting bonus rounds as well.
Mr. Macau has a menagerie of bonus rounds. This includes random modifiers and two types of Free Spin Features. During free spins, there Sticky Wilds and Multiplier Wilds, which is excellent. The theoretical RTP is above 97% and the volatility isn't extreme by any stretch either.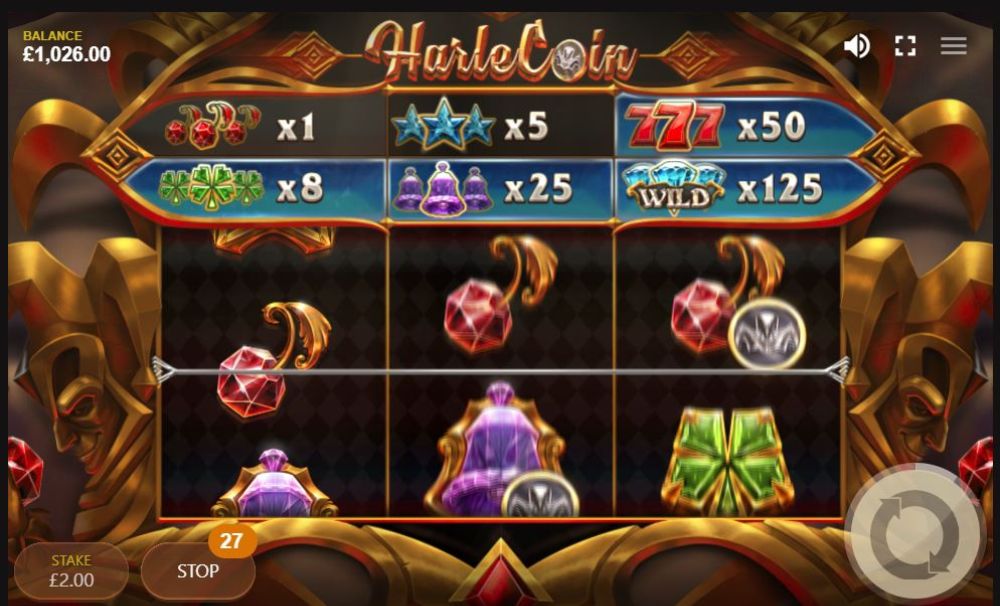 Betting Range, RTP & Symbols
The betting range is simple. It starts at $0.10 and there are many different levels, up to $80. Remember, you're always betting on a single payline, so your whole stake goes on that.
The theoretical RTP of HarleCoin is 95.71%. Hardly thrilling, and it's so typical of the Red Tiger Gaming slots. Note that there are RTP ranges as well, so you can get worse math models at some online casinos. Our advice is that you should never play HarleCoin with an RTP lower than the default. Even that is right on the edge, so everything below isn't acceptable at all.
Visually, HarleCoin brings quite some eye candy to the table. The playing field has a classic look, with the slot's paytable sitting right at the top of the reels. That's cool, while the rest of the slot has some seriously golden vibes.
Two sly jokers appear alongside the reels, each holding a ruby and glaring at you sideways. It's atmospheric and the quality of the symbols are above board. Since only a few are appear on a spin, they are big. In terms of actual symbols, there are all the classics you'd expect.
There are cherries, clovers, stars, bells, and sevens – the usual suspects. The Wild symbol looks like a diamond and it's also the top-paying symbol.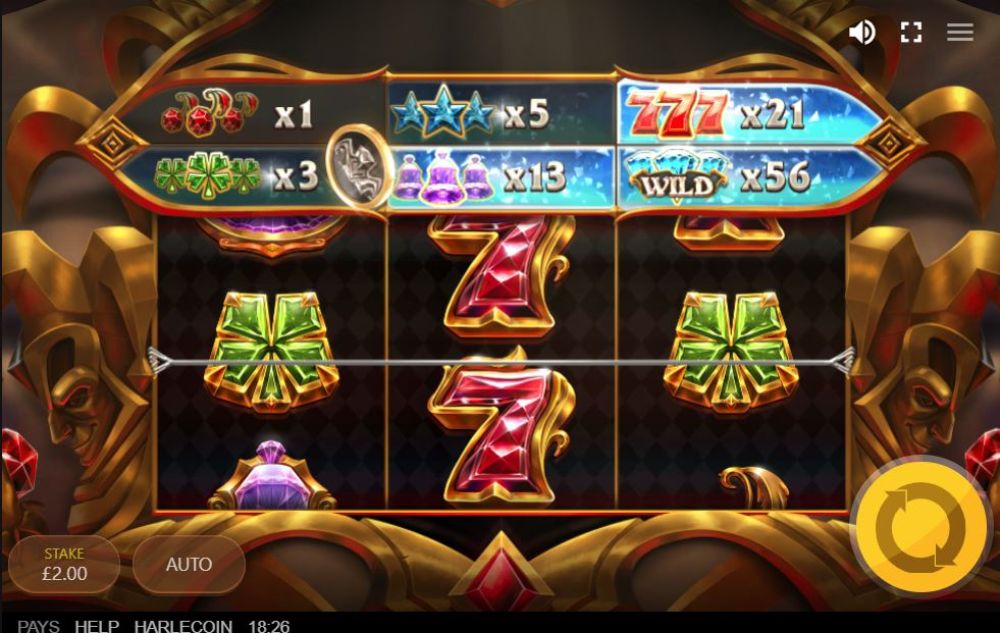 Bonus Rounds
HarleCoins
During the game, you can find small overlay symbols called HarleCoins. Whenever they land, they'll boost the value of the given symbol. That's until you get the next win with it and the boosts can appear multiple times. It's like gearing up for the next win and it's quite fun. It's hard to stop playing if you have boosts active.
Boost Spins
Find 3 Bonus symbols and you'll trigger the Boost Spins Feature. Here, you'll get up to 25 free spins, the actual number is random. During them, teh pay symbols that don't receive a boost always land with a HarleCoin.
The symbol values don't reset during the feature either resulting in bigger payouts. The final values will then go through to the base game as well. They'll stay that way until they offer a payout.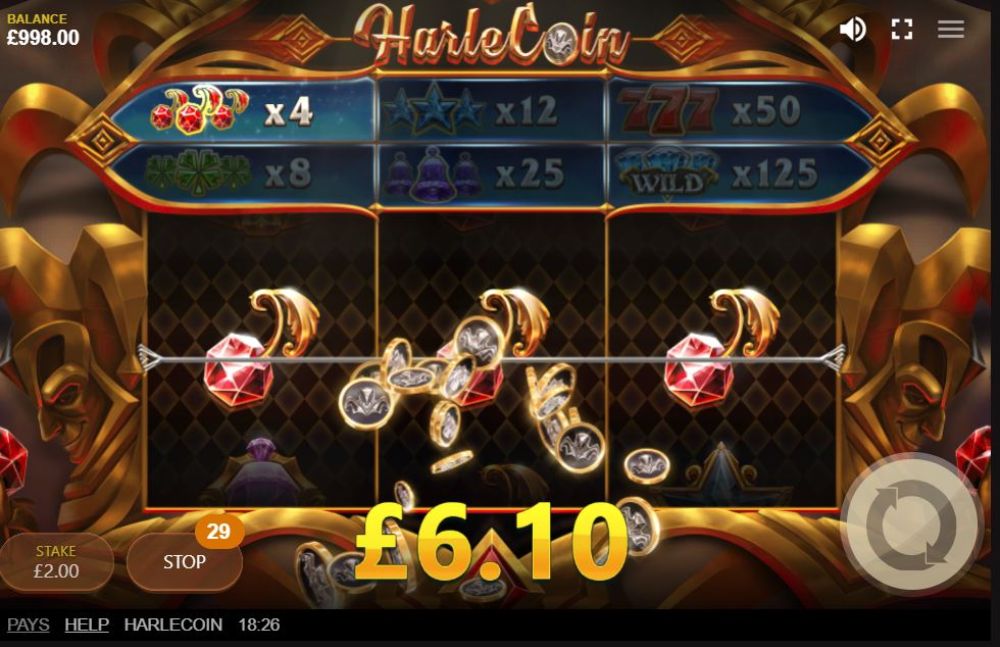 Verdict
HarleCoin is one of the strangest-looking online slots we played in a while. When we saw it for the first time we thought the studio made a spelling mistake. Harlequin as opposed to HarleCoin. Moreover, it's rather old school when we compare it to behemoths like Infectious 5x Ways.
We're not fans of the one payline format. Then again, the bonus rounds are ample enogh to warrant a few spin. The visuals are intricate and the HarleCoins Feature keeps the loop interesting.