Lava Gold is a Betsoft slot that will take you to a prehistoric era with volcanos and dinosaurs. We've seen this elsewhere already, but it's clear that there are modern twists here. That makes things better and there's no going around it. Lava Gold is one of the top dinosaur Betsoft video slots on the scene!
With 5 reels, 5 rows and Cluster Pays, it has a low volatility that will please all casual fans. The bonus rounds are fun and thematic as well. The math model has only one weakness; you can't win more than 160x your stake on a single spin. Nothing for jackpot hunters, sorry. Lava Gold is on offer across devices at all our safe USA casinos online.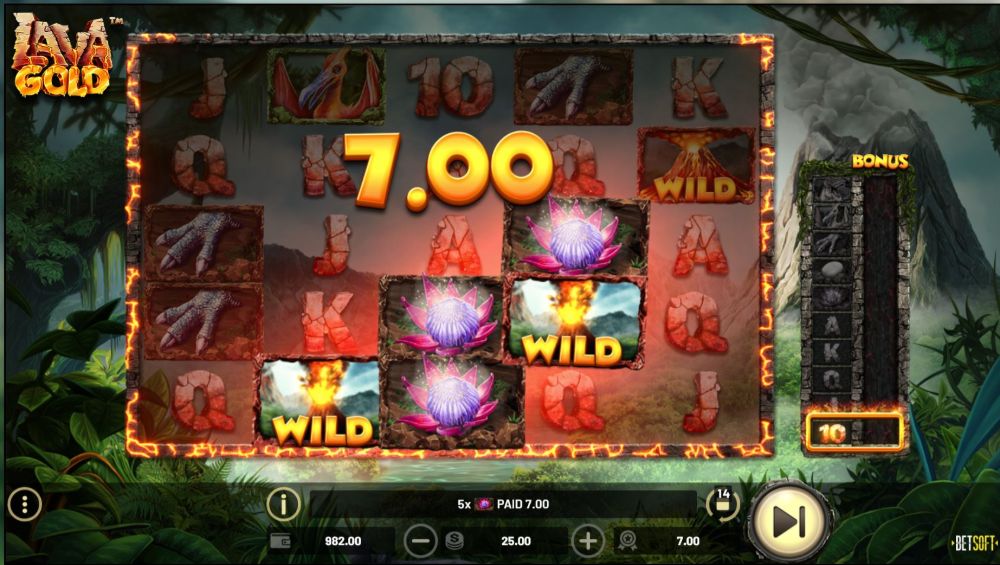 Betting Range, RTP & Symbols
To get in touch with Lava Gold, you need to have at least $0.25. High rollers can stake more as the betting range goes up to $100. Before you play the slots for real money. Open the Help Screen and read the instructions therein carefully. It provides plenty of valuable information about the game. More importantly, don't chase your losses, and when you win big; cash out.
Payouts are based on Clusters. As a result, you need at least 5 matching symbols that touch to get a win. The theoretical RTP is on the sunnier side of average at 96.02%. The math model targets, recreational players. That won't suit everyone, but it's a welcome change from all the high adrenaline action.
Thematically, you can look forward to all kinds of dinosaurs. The low pays are a bit more boring, featuring nothing more but card ranks. It then goes from eggs to dinosaurs, though, with nice designs all around. There are many background animations to keep you entertained as well.
The production values are high, even according to Betsoft's standards. In other words, there's so much eye candy that you won't want to leave for at least a while. For Wilds, there are tough-looking volcanoes that can sub for adjacent symbols.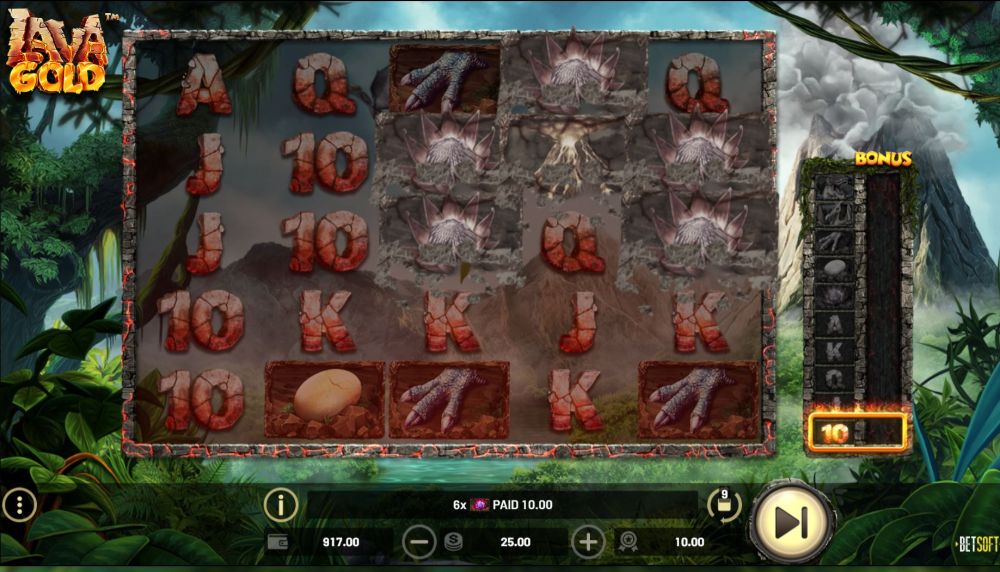 Bonus Rounds
Cluster Wins
The game pays out on Clusters, but there's more. The core bonus round is a bit like Avalanches, but with a neat twist. Whenever a cluster pay occurs, it automatically disappears from the board. Other symbols can then grow onto the empty positions. This process repeats for as long as there are new winning clusters. Or, until the grid fills with matching symbols.
Free Spins
Through Clusters, you also fill the Lava Meter next to the reels. If you get a cluster for each symbol, you'll fill it and trigger the Free Spins Feature. It always comes with 10 free spins and some nice kickers.
The central column syncs for one which guarantees a win. Symbols can't grow during free spins, though. Instead, there's a global win multiplier that increases with each spin for growing wins. A nice trade-off – and one that can lead to some juicy payouts!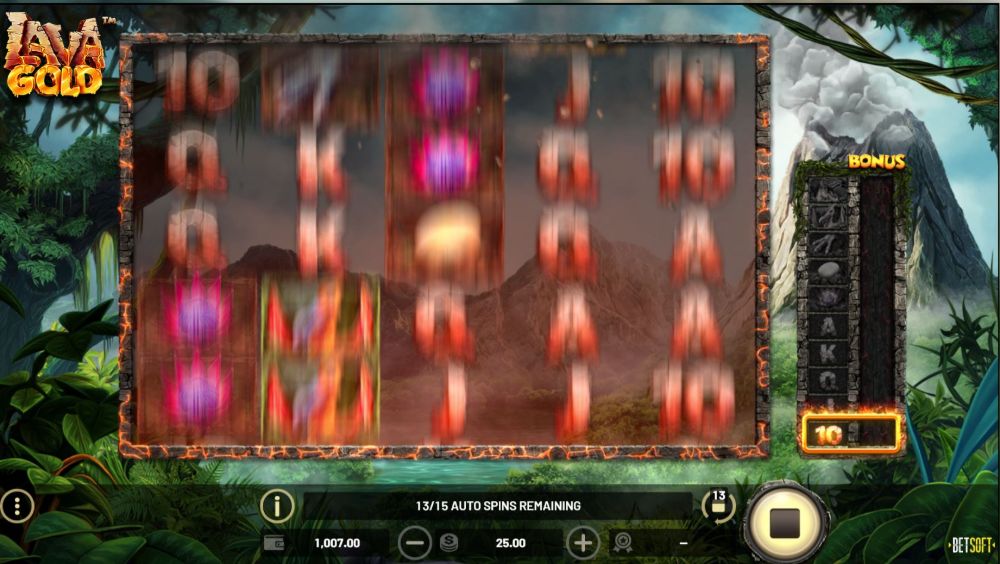 Verdict
Lava Gold is yet another excellent Betsoft slot. It's easy to fall in love with it. The reels are chockablock with feisty dinosaurs, but that's not all. The production values are high and we like the animations throughout. The atmosphere is sweet and so are the bonus rounds.
The slot has its own take on Clusters and Avalanches. It ties it to its free spins as well. The only caveat is that it deactivates the Avalanches during the free spins. It then replaces them with guaranteed wins and increasing win multipliers. In hindsight, it's a good thing since it maximizes your earning potential in the free spins.
Finally, wins come thick and fast. The top jackpot is low, but the volatility is one of the lowest we've ever seen! Hence the reason it's the perfect slot to play with a bonus. Another Betsoft slot we enjoy playing is Safari Sam 2. The visuals are gorgeous, it has a Cascading engine and it's fun to play. So, check it out.