Live Blackjack is the most popular card casino game for a reason. It's now more popular than ever thanks to online casinos that dedicate a section to Live Casinos. Live dealer casinos are the latest addition to casino gaming. Moreover, you'll find them at all the top USA online casinos. They allow you to jump right into the middle of the action in a realistic setting. How about that!
What Are Live Casinos?
Live casinos are online tables that stream games like blackjack for real money to your device. There are live dealers, live cards, and live interactions, therefore the full package. You can enjoy live blackjack on your computer. But you can also play live casino blackjack on your mobile device.
It doesn't matter what sort of a mobile device you have as long as it's modern enough. You only need a decent web browser and a good enough internet connection. The internet connection has to be better than usual since video streams take a lot of bandwidth.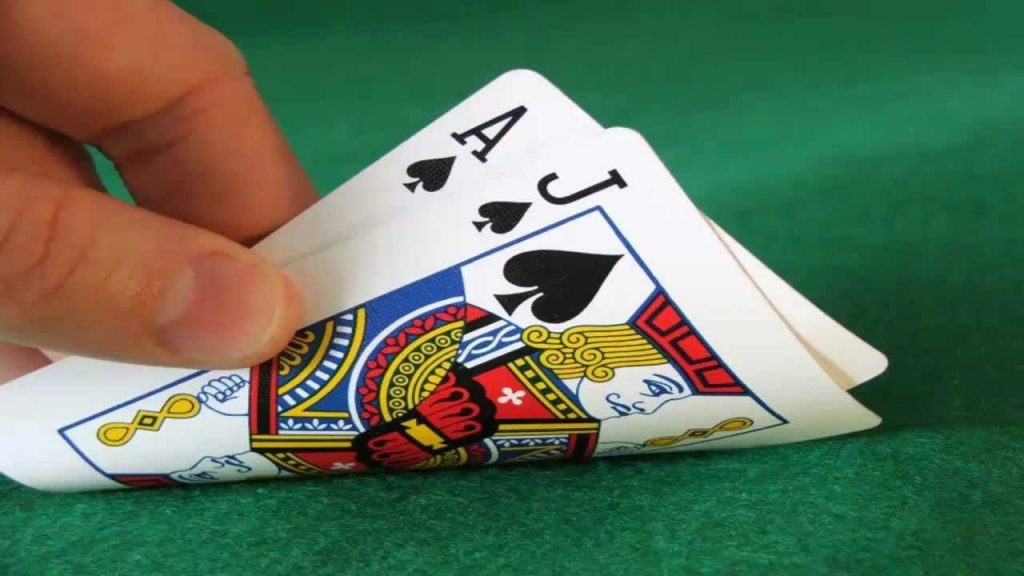 What Makes Live Blackjack Better
Live blackjack is a new experience for you if you've been playing only online blackjack so far. There are quite a few differences between live blackjack and regular blackjack, but most are for the better.
The atmosphere of live blackjack, for one, is excellent. Gone are the boring machine backgrounds and straightforward visuals. With live blackjack, everything is lively and colorful. There are even thematic tables on offer that can take you to interesting environments.
Live blackjack is way more engaging. The interactions make you feel like in a brick-and-mortar casino. You might even forget that you're staring at a computer screen. Yeah, that's how realistic things can be with HD streams.
Even better, many online casinos run special bonuses and promotions for live blackjack. These aren't as big as sign up bonuses or reload bonus, but they are nice nevertheless.
There's a slight learning curve in that the user interface is a tad different. There is no need to be concerned because it only takes a minute or three to get the hang of it. It's nothing an experienced casino player will struggle with – and there are tutorials to help you out as well.
What might disappoint you a bit is the speed of play. Regular tables move at your own pace since you're the only player. The machine dealer doesn't need any time to make the moves, so it's up to you. Live tables come with more players and live dealers, though. This creates delays and slows down the pace of the action. Most players don't mind, but live tables aren't ideal for blackjack fans that want to get in as many hands as possible.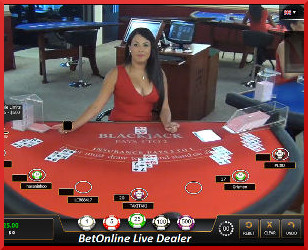 Blackjack Strategy
The one thing that's important to realize is that live blackjack is no different than regular online blackjack. The rules are the same as well as the math behind it. This means that you should use a basic blackjack strategy when you play.
There are many blackjack strategy guides available online. You can print them out and use them while you play. You can also learn them by heart, but there's enough time for you to make your decisions online. That means that you can just refer back to the tables whenever you want. Also, check out our article about the 5 mistakes blackjack players make.
Given that, you'll want to print out the most specific blackjack strategies possible. These are more complex because they are accurate. Furthermore, they allow you to make the best possible decisions.
Interacting with Live Dealers
The social aspect of live tables is one of the biggest draws of live blackjack at live casinos. You can interact with your fellow players and even with the live dealers.
That can be a lot of fun. You can share your wins and losses with someone else. Celebrations are great whenever blackjacks start coming. Getting some messages after a bad beat can also be nice if you're a social type. Blackjack occurs roughly on every 20th hand.
Just remember to be as nice since it's proper etiquette when you play blackjack live online casinos. If you cross the line they can mute your interactions. You can also tip the live dealers when you feel like it. There are no expectations if you're playing for low stakes, so don't feel under pressure. It's a good idea to get a tip-in whenever you win big at a high stakes table.
Betting and VIP Rooms
Since there's only a handful of live blackjack tables available. There's no reason to worry if you're a high roller casino VIP. Because live blackjack casinos allow their VIPs to bet thousands of dollars per hand.
The good news is that the majority of the blackjack tables are open 24/7 at live casinos. There were problems with waiting for lines when live blackjack first appeared. These days, though, you never have to wait more than a couple of minutes. This is no matter what the betting preferences you are. The more you're willing to be, the less you'll have to wait – but there are usually no queues at all outside the main hours.
If you are a blackjack VIP high roller, you can cash in on plenty of perks. You'll also get access to special VIP rooms that offer more tables around the clock.
These live blackjack tables come with higher betting limits, so you can't play for small stakes at them. You will, however, get the best dealers and that means the best possible live blackjack experience. You'll have to tip them more often, so keep that in mind.
Final Word
Live blackjack at live casinos is the best to happen to blackjack in ages. It's dynamic and it's a whole lot of fun as well. It allows you to enjoy online blackjack in an entirely new way. If you're looking to spice things up a bit, we highly recommend it. All you need to do is open an account at one of our best US casinos and start playing!