Live casino blackjack is the best thing that happened to blackjack in recent years. You don't have to visit a land based casino to get a great blackjack experience anymore. Instead, you can sit down at one of the live tables USA online casinos.
What are the social rules of live casino blackjack tables? Stay with us as we provide all the answers right here.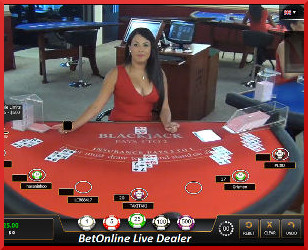 Basic Blackjack Etiquette
Before we have a look at live casino blackjack etiquette, we need to look at basic blackjack etiquette. One of the most important blackjack etiquette rules relates to the handling of your cards. You must handle them with only one hand and you can never remove them from the table. The reason being the casino prevents players from tampering with their cards. Your hands must be above the table at all times. Remember, big daddyo or the eye in the sky is always watching.
Handle The Cards With Care
Players try to mark the cards by bending their edges or they leave marks. The bottom line is when you're in the house you must play according to the casino's rules. If you're a repeated offender the casino will eventually ban you.
Another important piece of blackjack etiquette is that you don't eat or drink at blackjack tables. It can be hard to stay focused at blackjack tables for long without refreshments. There are areas within the casino where players can play and drink. Don't bring any big snacks with you. If you have to eat, take a break and settle down for a good meal in the casino's restaurant.
Joining and leaving blackjack tables on a whim is bad manners in the eyes of the casino. It delays the action a bit and it breaks the flow. Unless, you are a blackjack card counter or have a good reason to hop tables, don't do so.
Moreover, be polite when you chat to the dealer and to other players at the table. Don't attack players for their bad plays. Ideally, don't comment at all. Even newcomers and blackjack novices have the right to play at the same blackjack table as you. Their bad plays don't even influence your results. Not even, when it comes to the notorious anchorman position.
Etiquette At Blackjack Live Casinos Online
Live casino blackjack etiquette is slightly different. That's because you don't actually sit at a real table. The biggest difference, though, is that you don't have to handle your cards in any way. As we've mentioned above, handling your cards right is a big thing in blackjack. You don't have to care about any of that at online live casino tables. Blackjack live dealer casinos offer first timers a casino bonus on deposit.
Check Your Playing Speed
However, you must focus on your speed of play. Making a decision is easy at live casino blackjack tables. You do not have to place any chips anywhere and you do not have to announce anything either. All you have to do is click the appropriate button. There are time limits, but it's a bad sign if you're consistently the player everyone else waits for.
It's bad etiquette when you leave and join the same table again. As it delays the action unnecessarily and it's even worse when you play live blackjack. Then again some players such as card counters do it. Note, card counting is impossible at live USA casinos. Don't leave a blackjack table on a whim, unless you've run out of cash.
As for tipping, you're under no obligation to the tip the dealer. However, it's just good manners, especially if you had a good hand at a blackjack table for high stakes.
What Not to Do
The biggest deal-breaker online at live casino blackjack is slow play. Newcomers are the biggest culprits; even experienced players can make play slow.
If you want to refer back to your strategy charts, fine. You should practice doing that beforehand. Don't learn it on the fly. Instead, play at regular blackjack tables with machine dealers. You can even play blackjack games with free credits at our best American live blackjack casinos. This way, you won't have to risk anything. Once you know the game's rules and you have a blackjack betting strategy. Move to live casino blackjack tables.
Make sure to your chat in live blackjack is civil. It's great to have some interaction going. It's also fun to celebrate big wins together and share losses. You can share some stories as well and have a good time.
What other players do influences your results less than you'd think. Keep that in mind when you're about to berate someone for making a bad play. And, most importantly, don't harass the dealer in any way. If you ridicule the dealer or other players during live chat. The casino will ban you from chat for a while. If you're a repeat offender the casino will ban you indefintely.
Final Word
Live casino blackjack can be a daunting experience at first. There are a few things you need to keep focus on. If you've read ourt blackjack live casino etiquette article, you'll have no problems whatsoever. Just stay focused, and respect the dealer and fellow blackjack players at the table. Good luck!