The best USA online casinos have hundreds of casino games to offer. Online slots lobbies are the biggest, no doubt about that. Casino classics are important too. You've already heard about the most popular ones. If you don't want to play slots for real money are there other alternatives other than blackjack, baccarat, or roulette? What are some of the crazier and more exotic online casino games that you should explore? Here's our top 5!
Sic Bo
Sic Bo is a dice casino game that's particularly popular in Asia. It's ancient Chinese game where players play with three dice. Even though it looks complicated. The casino game is similar to roulette in many ways. You have a table with various betting options just like in roulette.
Whenever a round starts, players place their chips on the bets they want to go for. Then, the dealer rolls three dice and reveals them. If you win, they pay out you bets and you must collect chips before a new game starts.
Like roulette, Sic Bo has some popular bets – Big and Small being the main highlights. If you bet Big, you'll be betting on the total score being from 11 to 17, triples excluded. If you bet Small, you'll be betting on the total score from 4 to 10, triples excluded. These bets both pay even money have a house edge of 2.78%. It's by no means bad for a casino classic. If you feel lucky, you can bet on bets with higher payouts as well. The house edge is higher, keep that in mind.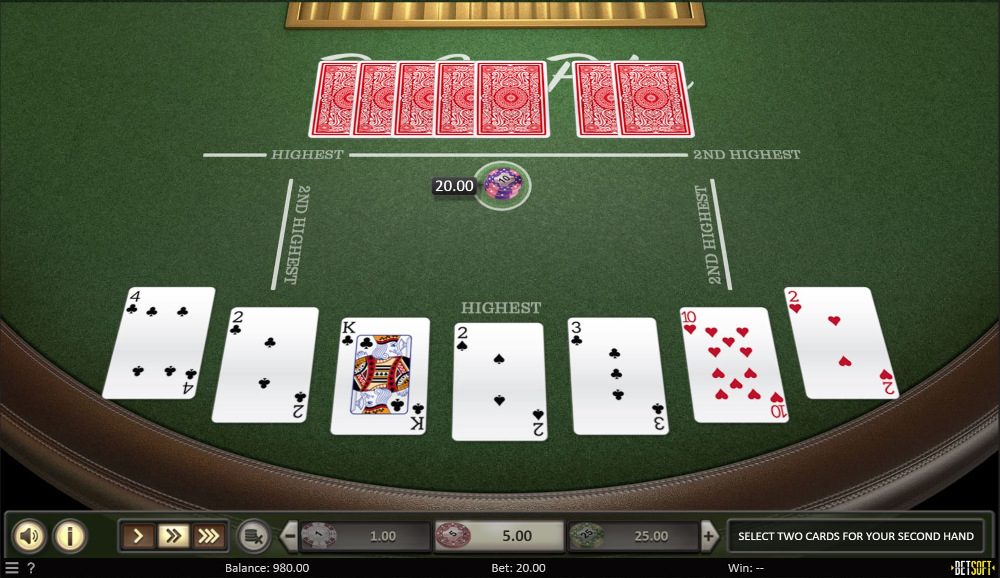 Pai Gow Poker
Pai Gow Poker is one of the newest casino games. It's been around only since 1985 and your goal is to create two poker hands from your cards. One of those hands must have five cards. The other one must have two. While the fifth card has to be of the bigger value.
You'll win your bet only if both your hands beat the banker's hands. If the banker wins both hands, you'll lose your bet. If you win one hand and lose the other one. There will be a push, though you might have to pay a commission. Ties in hands go to the banker, which is where the house edge comes from. On the condition it's not too big. If there's no commission on banker wins, it can be as low as 1.30%!
Three Card Rummy
Three Card Rummy is another casino card game that borrows a bit from poker. The aim of the casino game online is have less points than the dealer.
Once you place your bet the real money casino deals you 3 cards. You can raise or fold, with raises being equal to your ante bets. Then, the dealer will turn his or her card. The hand must qualify by 20 points or less. If it does not qualify. The casino will push your raise and your ante bet pays out at even money.
If the dealer qualifies, the US Casino online will then compare the totals. A tie is a push, while you'll win both your ante and raise if you have the lower total. The casino pays out ante bets as even money. Moreover, it pays out raises according to a special paytable.
Red Dog
Red Dog, or Yablon in certain circles, is a casino game you play with cards. Just so know know it's not a popular game in land casinos. However, our best online casino in the States have it. It's based on poker rules that includes ranking hands. And, it is way simpler than most forms of poker.
The rules are simple and you don't have many decisions to make. Once you place your wager, you'll draw two cards and there are three possible outcomes. If you receive consecutive cards such as a seven and an eight, for example. You'll void all bets and the casino will return your bets.
Now, if you receive two equal cards, you'll receive another card. If your card values are the same the payout is 11:1. The casino will return your bets if it's not.
If there's a different configuration, the dealer will announce a spread. In otehr words, the value gap between the two cards. Then, you'll have the option of doubling your bet. The dealer will then give you another card. If it falls within the spread, you'll receive a payout of 1:1 to 5:1. If it doesn't, you'll lose your bet. The house edge of Red Dog is never above 3.155%.
Draw High Low
Draw High Low is a simple card casino game. It's all about predicting if the next card will be higher or lower than the one on the table. Unless the decision is straightforward, you'll have to decide between High or Low. If you are correct, your winnings will increase according to a paytable. If you are wrong, you'll lose your bet. Ties push bets.
You have to make at least one decision during a game round. Then, it will be up to you when to quit. You can call it a day at any point and collect your winnings. If you play correctly, you'll end up with a house edge just short of 4%. That makes Draw High a rather niche game that looses its lustre pretty quick. But, if you're want to play a game that offers fast action; it's quite engaging with plenty of decisions to make.
Final Word
Exotic online casino games like Sic Bo and Pai Gow Poker are great if you're looking for a new experience. Then again, players looking for crazy casino action can try Three Card Rummy, Red Dog and Draw High Low. They're easy to learn and offer quite some fun for newcomers and veterans alike!