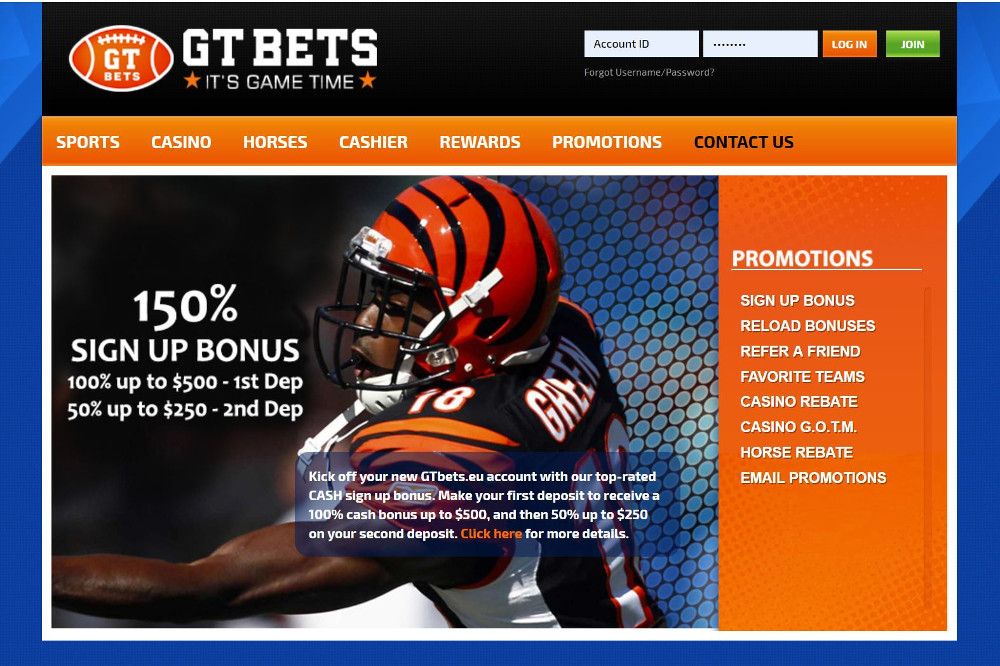 GTBets Online Sportsbook Safety and Security
It's easy to be a bit worried when it comes to placing your bets at online USA sportsbooks. GTBets is a trustworthy operator with a long history. It did go through a rough patch at one stage, but those days are well and truly over.
We've kept tabs on GTBets for a while and player complaints are far and few in between. Independent arbitration is a hassle, keep that in mind. That's because there are hardly any licensing bodies that oversee GTBets' operation. If you'll ever run into any payment issues – which we hope will never be the case. You can contact independent watchdog sites like SBR.
GTBets Online Sportsbook Banking
GTBets strives to make sportsbook banking quick and simple. That's why you can go for both fiat and crypto options with it.
How can you deposit at GTBets? You can use Visa, Mastercard, American Express, QuickCash, and gift cards for fiat deposits. There are no fees outside QuickCash. It's free for $200 and over, while a smaller deposit will cost you $10. You have to deposit at least $35 ($100 for QuickCash) and the max per transaction is $999 ($500 for QuickCash).
For crypto deposits, you can use Bitcoin, Bitcoin Cash, Litecoin, and XRP. There are no fees and the minimum is $35. You can deposit as much as $2,000 – VIPs can then have that limit lifted even higher.
How can you withdraw from GTBets? There are three options namely bank wire, Bitcoin and QuickCash. For bank wires, there's a $40 fee and you can withdraw between $100 and $5,000 through one payment per week. For QuickCash, the fee is $50 or 8%, you have to contact GTBets for a personalized offer. Bitcoin payouts are free once per month ($60 fee otherwise) and you can withdraw between $300 and $5,000 per week.
GTBets payouts are quick. Moreover, the sportsbook online clears payments between 10:00 AM EST and 16:00 PM EST. The cut-off time is 12:00 PM EST for same-day withdrawals. The live betting sportsbook conducts a KYC check for your first payout; it's an easy ride after that. The default max withdrawal per week is $5,000.
Our experience is that you can get a same-day payout for Bitcoin if you request before the cut-off. We were happy with that, though the $300 minimum for Bitcoin payouts is disappointing. Suffice to say that low rollers will find it tough to get a free payout.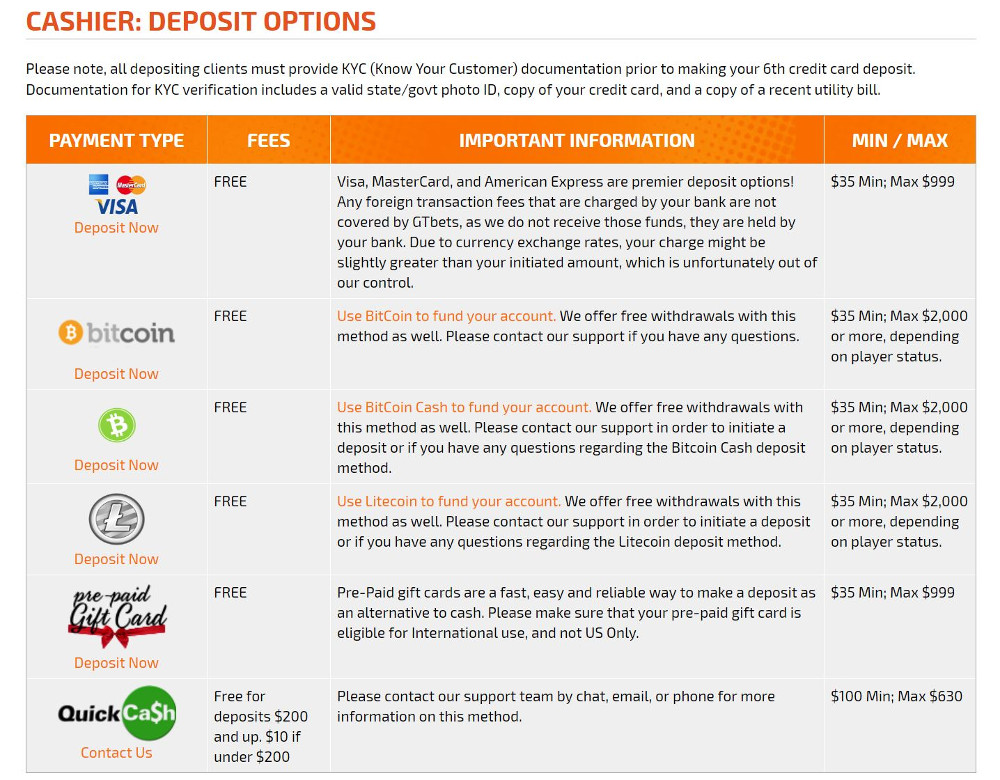 GTBets Online Sportsbook Deposit Bonus
Does GTBets offer welcome bonuses? It does, once you sign up the site offers you two welcome bonuses. On your first deposit, you can get a 100% bonus of up to $500. On your second deposit, the bonus is a 50% boost up to $250.
Note that this is a cash bonus, not a free play bonus. You get to keep all the money that you win, no max cash out. There are only two conditions. You have to deposit at least $35 and there's a 12x rollover tied to the bonus. You have to bet on lines that are juicier than -300, no limits otherwise.
GTBets Online Sportsbook Promotions
Aside from the deposit bonus, there are reload bonuses to keep you going. These are regular and there's even more. Upon signing up, you'll join the Game Time Rewards program. It will reward you for real money bets and you can even advance through VIP tiers. There are three and you can grab a lot over your stay. Suffice to say that you'll get more the more you play; so high rollers will get the most out of the deal.
GTBets Online Sportsbook Betting Markets
GTBets covers all the main sports 24/7. However, some prop bets aren't available. You won't even notice that unless you're into some of the niche betting options, however.
In terms of sports, GTBets sportsbook covers American sports such as the NHL, MLB, NBA, and NFL. Furthermore, players can bet on other sports like golf, auto racing, tennis, soccer, and snooker. Esports betting is available as well, so you can dig into that if you want. For fans of Australian sports, there's even an Aussie Rules section. Suffice to say that it's easy to find the bets that you want to place.
The prop bets at GTBets in NHL betting is not the best we've come across. Mostly Moneyline, 1st-period betting, and so on. Not much in terms of depth, but the odds are good throughout. The basic line is -110 most of the time for the main markets. Sometimes, you get -110 / -120 instead.
Note, that betting starts at $1 while the bookie personalizes its max betting limits. If you want to increase the size of your bets. Contact support and kindly request that they increase your limit.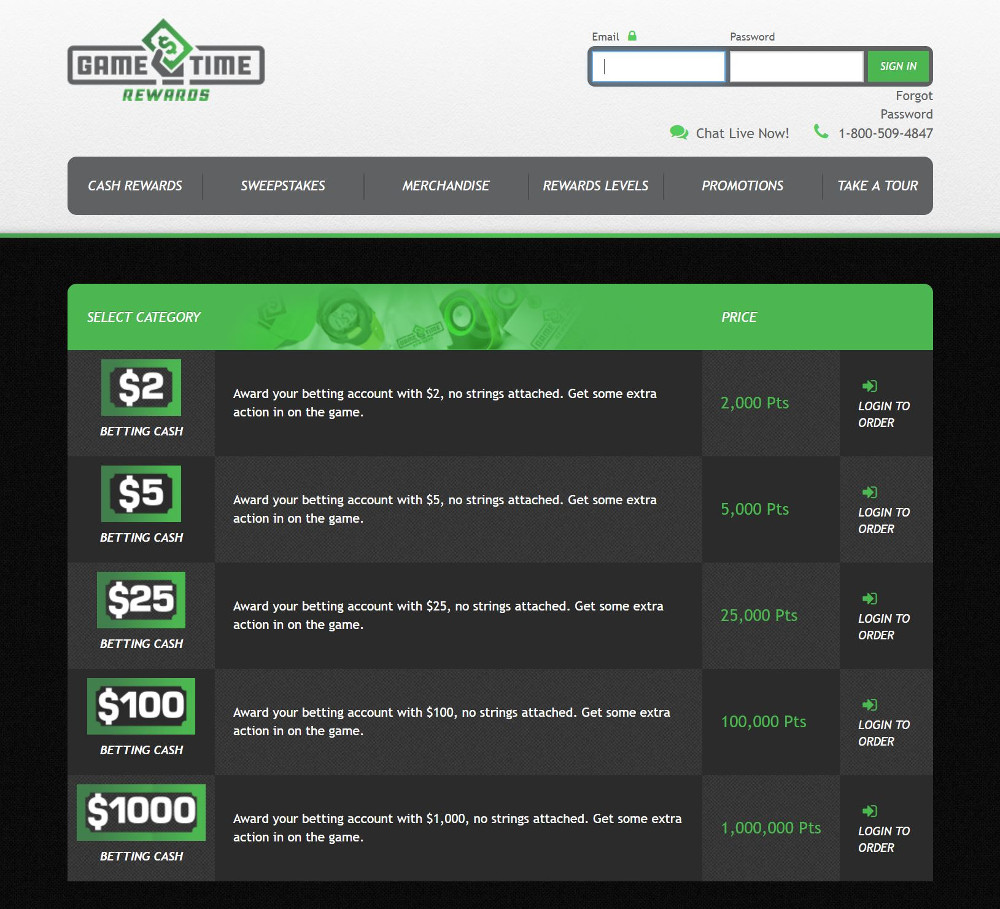 GTBets Online Sportsbook Live Betting
Like many sports betting fans, we love placing an in-play bet or two. So how does GTBets' live betting fare? In short, it's good without excelling in any regard. All the main sports, including American sports, tennis, and soccer are on the menu.
The odds are almost the same as in pre-match betting and we like the simple user interface. Getting a bet won't take you more than a couple of seconds. That's crucial since time is of the essence in live sports betting. You can place parlay bets in live betting.
GTBets Online Sportsbook Mobile Betting
Players that like betting on the go can have their fix at GTBets with no strings attached. The mobile live betting platform is available on all mobile devices, old and new. There are no downloads or installations to go through. All you need to do is enter the sportsbook's website into your mobile browser and go from there.
Once it loads up, you can log in and do whatever you need. Enjoy sports betting, live betting, or even do a bit of banking. You can even look at al the promos and bonuses GTBets has, there are hardly any functionality limits!
GTBets Online Sportsbook Casino Games
Does GTBets offer a casino section? Yes, in fact, it's quite good. We needed to check just how many games there are and we weren't disappointed. In terms of slots, GTBets work with Betsoft to offer top-notch video slots to all customers. It's a great range and there are table and card games as well.
If you want to get as close to the action as possible join GTBets' live casino tables. We took our shot at those and we found there were no waiting times either. We had a choice of tables as well with different bet sizes. It's great that GTBets doesn't cater only to high rollers in this regard. Even low rollers are more than welcome in the casino section!
You can also take advantage of generous casino promotions. All casino bets feed into the same rewards program as your sports betting bets. Two for one, if you'd like. There are casino rebates as well. It's easy – it works like a weekly 10% cashback for your losses if you qualify.
GTBets Online Sportsbook Customer Support
If you need to get in touch with GTBets, you can use live chat, phone, or e-mail. The staff is on hand 24/7, so you'll be able to get your answers quickly. The phone lines are toll-free as well, which is great.
We tried the live chat option and got in contact in about two minutes. The representative was friendly and professional. She handled our query quickly and with a minimal waiting time as well. Suffice to say that you won't run into a dead end with GTBets' customer support!
Final Word
GTBets is one of the best USA sportsbooks online, there's no going around it. It has a sweet deposit bonus, top-notch betting markets, and world-class customer support.
We only regret the tough payout terms and conditions GTBets has in place. We would be fine with one free Bitcoin payout per month, but the $300 minimum is massive. For casual players, getting a payout from GTBets without a fee will be hard. We like how quick these payouts can be, on the other hand.